Sign up for the 2022 Read To Lead course!
"Give yourself time to learn something new and good, and cease to be whirled around." —Marcus Aurelius, Meditations
We have re-opened registration!
**The live course is now closed. We have recorded the sessions and put the course back up at a reduced price so you can participate in the Read To Lead masterclass and become a great reader.
We tend to think how much we read is proof we're making progress. We like to show off our library. We listen to audiobooks on 2x or 3x speed. We think, "Less is more? Quality over quantity? Not with books!" We think: because reading is a good thing, wouldn't more be better?
Far from it.
Not all reading is created equal. As Epictetus said, "I cannot call somebody 'hard-working' knowing only that they read. Even if 'all night long' is added, I cannot say it—not until I know the focus of all this energy…" Of course, spending hours or days in front of books is better than say, hours watching stupid internet videos. But, it can still be a waste of time. "Far too many good brains," Seneca said, "have been afflicted by the pointless enthusiasm for useless knowledge."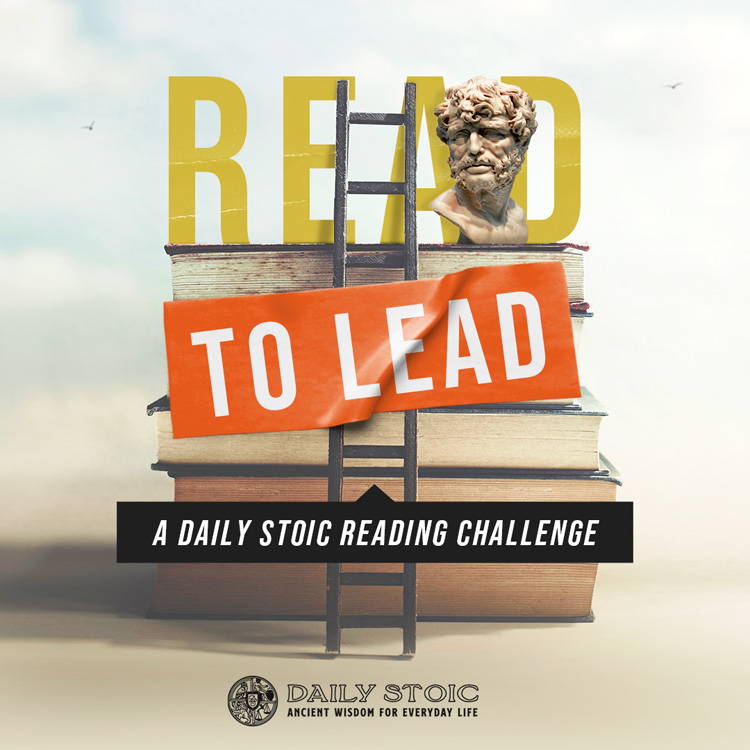 To be a great reader, it is not enough that you read, it's how you read. It's not about reading to impress people or for the mental gymnastics. It's not about pouring inputs into your brain. It's about getting better! It's about filtering what gets into your brain. It's about finding useful knowledge, knowledge you can use in your actual life. It's about putting the information up to the test, examining it, seeing how it applies to your life, asking yourself how you might use it, what it's prompting you to think.
If you want to become a great reader, the Stoics can help. We built out their best insights into our Read to Lead: A Daily Stoic Reading Challenge. Since it first launched in 2019, Read to Lead has been our most popular challenge, taken on by almost ten thousand participants. Today, we're excited to announce that, for the first time ever, registration to join the 2022 live cohort is officially open.
The 2022 live course will take place across 5 weeks at a pace of 2 emails a week (~30,000 words of exclusive content), in which Read To Lead participants will learn:
how to get the most out of your reading

how to find books with the potential of changing your life

how to think more critically

how to find time to read

how to digest books above your level
And much more.
Additionally, there will be weekly LIVE video sessions with Ryan Holiday, author of 12 books about Stoic philosophy which have sold more than 5 million copies in over 30 languages. And Ryan's monthly newsletter dedicated to book recommendations goes out to nearly 300,000 people. Videos on his reading habit have gotten millions and millions of views.
LIVE Q&A's SCHEDULE:
#1: May 20, 2-3 PM CT
#2: May 27, 2-3 PM CT
#3: June 3, 2-3 PM CT
#4: June 10, 2-3 PM CT
#5: June 17, 2-3 PM CT
As a participant in Read to Lead: A Daily Stoic Reading Challenge, you'll not only become a better reader and build a real reading habit, you'll get to learn from Ryan and the practice that's made him, as it's been said, "the king of reading as a form of self-improvement."
This will be a live course. Beginning on TUESDAY MAY 17, all participants will move through the course together at the same pace.
Registration is now officially open.